About GoPay Coins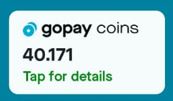 GoPay Coins is a universal point system in the form of cashback balances that are given as rewards to users after completing an order. Currently, GoPay Coins can only be used at Tokopedia as a discount for transaction payment (later, it can be used on Gojek app, stay tuned!).

On Tokopedia, GoPay Coins can be viewed on the Homepage, Account page, Global Menu, and Point Center. GoPay Coins can also be viewed on the Gojek app Homepage although it can't be used at this time.
Important!
If you already have TokoPoints on Tokopedia, the remaining TokoPoints you have will convert into GoPay Coins with a value of 10x after you connect your Gojek account with Tokopedia. Example: If you have 1.000 TokoPoints then you will have 10.000 GoPay Coins.
If you have questions or need other information, you can go to this link.

Hope this information helps you. For further