Travel Safer and More Comfortable with J3K's Latest Innovations
Hi Gojekers,
Current conditions require us to increase vigilance when maintaining personal health, hygiene and safety. Understanding that we continue to improve by introducing the J3K (Stay Healthy, Hygienic and Protected) protocol, a safer way to live more comfortably.
When driving with GoRide or GoCar services, we provide extra protocols to maintain the hygiene of driver partners and users during the trip. Gojek presents the GoRide's Driver protection shield in the form of Protective Shield and J3K Shield on the helmet of driver-partners for GoRide services as well as Protective Shield for GoCar services.
The Protective Shield innovation and J3K Shield are our efforts to implement new service standards at no additional cost in the midst of a pandemic situation with the hope of preventing and minimizing the transmission of COVID-19. These facilities will be available gradually in all GoRide and GoCar vehicle units in 16 cities in Indonesia.
Travel Worry-Free with GoRide Safety Standards
For our loyal GoRide users, now you can travel more peacefully with our driver-partners who are equipped with the GoRide Driver Protective Tools. The GoRide Driver Protective Tools consist of Protective Shield, a barrier between driver-partners and customers, and the J3K Shield, which is an additional face shield on the driver partner's helmet acting as a preventive tool to reduce the spread of coronavirus. GoRide driver-partners will receive one of these facilities according to the needs in the field.
Both the protective shield and the J3K Shield will be available in 16 cities gradually in cities like Semarang, Makassar, Surabaya, Bekasi, Bogor, Depok, Jakarta, Tangerang, Medan, Palembang, Bandung, Yogyakarta, Bali, Malang, Batam, Manado, Solo, Padang, Pekanbaru and Lampung.
The Protective Shield installed in the GoRide unit is made of PVC plastic (not glassware) and has a stable frame design with a lightweight material. Not only that, this protective partition also has an aerodynamic design that does not withstand the wind when driving, so that driving safety and your comfort are ensured. 
In addition to the Protective Shield, you can also find the J3K Shield innovation across the GoRide units. This is an additional face shield attached to the driver partner's helmet glass which functions to reduce the spread of coronavirus. This facility is made of PET material, which is lightweight and easy to clean. The J3K Shield will not disturb drivers' view. Surely this J3K Shield innovation on GoRide will make you and your GoRide driver travel safer!
Travel Worry-Free with GoCar Safety Standards
For those of you who want to travel with GoCar, the Protective Shield also presents in GoCar units. This protective partition is installed to limit the space between customers and driver partners to ensure mutual safety and hygiene are maintained. The protective shield, installed in GoCar units across 16 Indonesian cities, is made of thick plastic material that is easy to clean.
The presence of Protective Shield and J3K Shield in GoCar and GoRide units is a form of Gojek's supportive efforts to maintain health, hygiene and safety. These efforts are conducted based on the WHO recommendation document which states that a physical barrier made of glass or plastic is one of the PPE (Personal Protection Equipment) plays a role in reducing exposure to the coronavirus.
Protective Shield and J3K Shield strengthen the safety & hygiene improvement initiatives that we have carried out, namely: checking our driver-partners body temperature and regular vehicles disinfection through the J3K Safety Point. Implemented to ensure the condition of the driver-partners is healthy and the vehicle unit is hygienic and maintained safely. 
Currently, you can check the status of the driver's body temperature and vehicle hygiene on Gojek New Driver Profile after you order GoCar service. The same features are also available on GoRide, GoFood and GoSend services.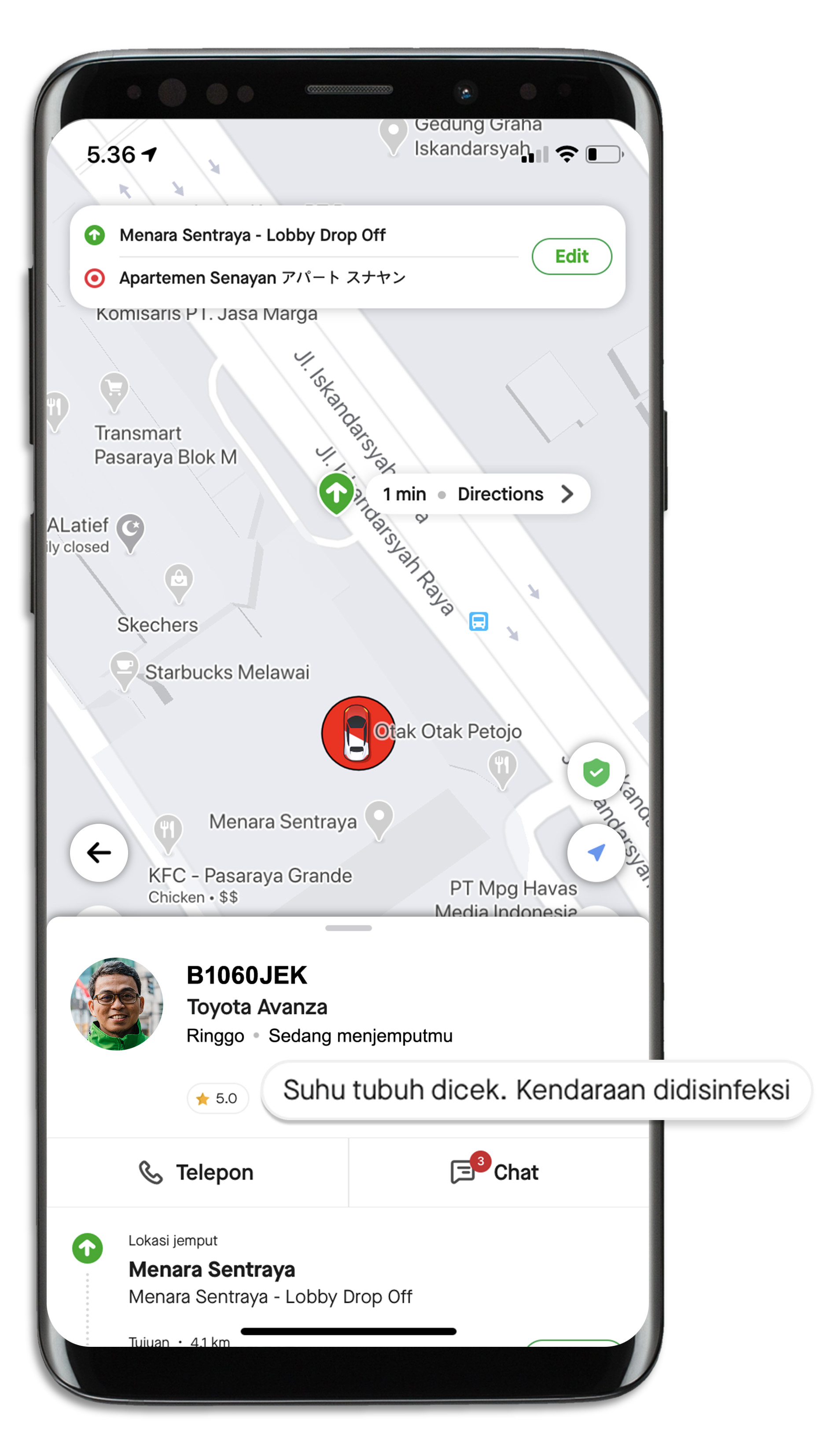 Aside from all of the innovation mentioned previously, we continuously want to inform you to stay hygienic and protected. Check how you can stay responsible when riding GoCar or GoRide by supporting the prevention of the spread of the coronavirus together on: Be Responsible During Your Trip with GoRide & GoCar.
Through various initiatives that have been and will be carried out, Gojek hopes to help all levels of society adapt to the current situation. By implementing the J3K protocol together, #ThereIsAlwaysAWay to make life more comfortable.