If there's the right time to be panicking, it is now: there's nothing like the anxiety of not having your Secret Santa presents yet when Christmas is less than 2 weeks away and you don't know where to shop. But we've got your back – this non-exhaustive list of gifts for every budget will help you tide over the season.
Psst… our driver-partners aren't couriers – if you want to deliver your presents to your loved ones, make sure you're in the car with the gifts!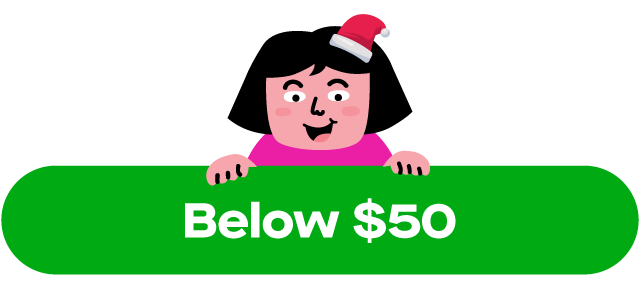 Image from: Another Kynd
Getting a gift for a bestie who loves dressing up? There's nothing that seals an outfit quite like a good accessory or two. Shop from Another Kynd's highly-versatile collection of modern earrings and hair barrettes.
Image from: Candles of Light
This local brand sells everything aromatic from linen sprays to tealights in gorgeous, speckled terrazzo that you can reuse once the candle's all used up. They're all made with good, natural stuff too – perfect mini gifts that will fit your stockings.
Image from: Burpple Beyond

Have foodie friends that love going across the island exploring the best eateries? Get them a Burpple Beyond subscription which gives year-long access to 1-for-1 deals in over 500 restaurants in Singapore. Bonus: you get to be part of these deals too!
Image from: MÖBLER
This Swedish brand is well known for its beautiful, well-made antique pieces – but if you don't have thousands to spend on a mid-century couch, it's also got a healthy collection of vintage accessories that fit the budget.
Image from: Noah Garden Centre
It's the gift that literally keeps on giving. If you've got friends or family with green thumbs, get them a plant or two from Noah Garden Centre, which even has a Christmas plant collection – think the likes of scarlet poinsettias, intricate wreaths, and live Christmas trees.
Image from: BooksActually
Don't know what to get? Choose from travel, food, and coffee/tea boxes – or even Singapore literature –, wait for the friendly bookkeepers to curate the titles for you, then give your box away!
Image from: Sonos
Looks good, sounds good, and is fully controllable with Alexa and other smart home devices. Your gift recipient no longer has an excuse not to sing along to Mariah Carey's 'All I Want For Christmas Is You'.
Image from: SOJAO

Shop eco-friendly, 100% organic cotton sheets made with non-toxic dyes for the people in your life who deserve a good night's rest.
Image from: Herman Miller
Quite possibly the most iconic coat hook in the history of all coat hooks, this piece created by Charles and Ray Eames will as beautiful today on your wall as it did in 1953. Comes in many colors, including multi, walnut, as well as monochromatic white and black for the minimalist at heart.
Know someone who'd love a donation on their behalf? Here are some causes on Giving.sg well worth contributing to:

Bring Our Elders Home Safely for St Luke's ElderCare
For every $10 you donate, the Gojek team will provide a $10 transport voucher to St Luke's ElderCare – these vouchers will help alleviate the elders' day-to-day transport costs.
Project Makan! by Society for the Aged Sick
Project Makan! aims to raise funds for providing a wider range of meals to its residents – e.g. local food, dessert, and barbeque. Additional funds will go into a higher frequency of these meals.
---
Any content in this blog including references to third party sites or applications ("Third Party Sites") is for general informational purposes only as part of our user community engagement. It does not constitute an advertisement, endorsement, recommendation or advice, nor does Gojek derive any form of commercial benefit from third parties from sharing such content with you.

Content made available from such Third Party Sites including about their products and services ("Third Party Content") is solely the responsibility of the site provider, and any transactions you enter into concerning Third Party Content linked from this email are solely between you and that Third Party, without any liability or responsibility on the part of Gojek, its licensors or any of its Affiliates for such Third Party Content or transactions.