Singaporeans… we aren't well known for having a sense of humor. Polish your funny bones by going to these comedy shows – and get to them with a Gojek ride.
Image from: The Honeycombers
The Kumar Show: Comedy at Canvas
Where: Canvas
Homegrown drag queen Kumar speaks about all the unspeakable in Singapore – from the problematic politics to the downright dirty – and gets away with it. Your tickets also conveniently come with a drink.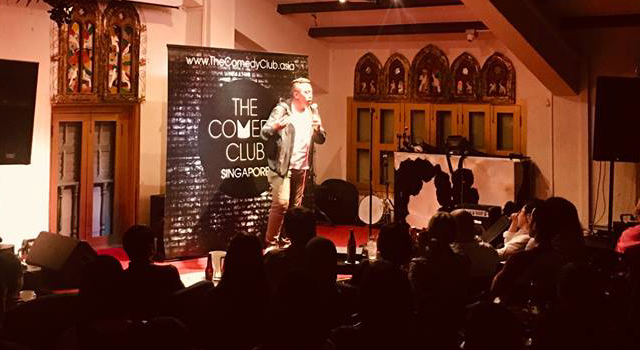 Image from: Facebook – The Comedy Club Asia (Singapore)
Where: Canvas
Also held at Canvas, Singapore's original stand-up open mic night gives you the opportunity to dip your toes into the cruel, cutthroat world of sitcom and satire. Or, see others do it and laugh at/with them.
Image from: Facebook – The Merry Lion

The Merry Lion Comedy Café & Bar
Where: 8B Circular Road, Level 3
The Merry Lion hosts live comedy shows 5 times weekly, with comedians from all over the world like Comedy Central's Tom Rhodes. It's also the only place in the island fully dedicated to comedy, so you know they take their jokes… seriously.
Image from: Comedy Masala
Where: Hero's
Hosted by founder Umar Rana, Comedy Masala at Hero's is the place to be to unwind with bar grub and let loose. The funniest comics have graced this stage, and will continue doing so – such as UK's Eddy Brimson.
Image from: Netflix
[BONUS] The DIY comedy night
Where: Your house
Got a Netflix account? Then you're all set. Watch endless hours of stand-up comedy from the comfort of your house. We recommend The Fix, where famous comedians attempt to fix the world's problems and don't really succeed in doing so. Psst… if you want some tears and general ennui with your laughs, Bojack Horseman's latest and final season comes out 25 October.
---
Any content in this email including references to third party sites or applications ("Third Party Sites") is for general informational purposes only as part of our user community engagement. It does not constitute an advertisement, endorsement, recommendation or advice, nor does Gojek derive any form of commercial benefit from third parties from sharing such content with you.

Content made available from such Third Party Sites including about their products and services ("Third Party Content") is solely the responsibility of the site provider, and any transactions you enter into concerning Third Party Content linked from this email are solely between you and that Third Party, without any liability or responsibility on the part of Gojek, its licensors or any of its Affiliates for such Third Party Content or transactions.