Better coverage, better rides. Introducing RideShield – a new feature that you'll be able to opt into for every ride you take on Gojek. Access to RideShield will be made available to all Gojek customers from 12 December 2022. RideShield will include:
On-time guarantee: $5 ride voucher if your pick-up's delayed by 10 minutes
Complimentary Accidental Death and Permanent Disablement coverage of up to $100,000 and Accidental Medical Expenses Reimbursement coverage of up to $1,000*
How RideShield works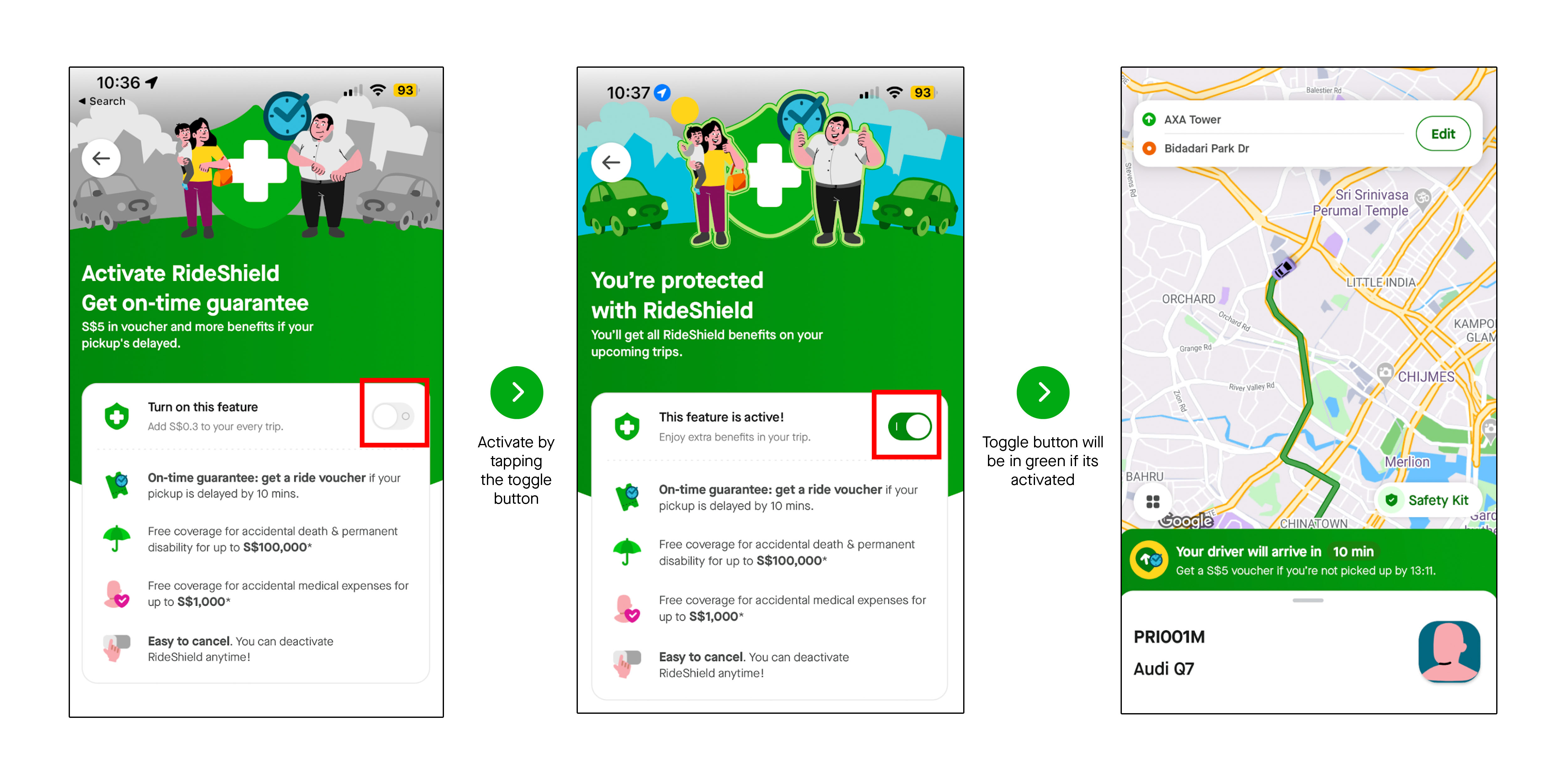 Search for your destination and click on the RideShield icon
Click on the RideShield section
Opt in to RideShield (you'll only need to do it once for all upcoming rides)
An additional $0.30 will be added for every Gojek ride you take
Enjoy additional coverage for your trip!
*Insurance coverage is underwritten by AIG Asia Pacific Insurance Pte. Ltd. Protected up to specified limits by SDIC.

—

FAQs

What rides are eligible for RideShield?
GoCar, GoCar XL, GoCar Premium, GoCar Kids, GoCar XL Kids, and GoTaxi are eligible for RideShield coverage.
Who gets covered for RideShield?
RideShield has to be activated before booking your Gojek ride. Once you've opted in, you and your accompanying passenger(s) are all covered with RideShield as long as you're sharing the same ride.
Where do I see my RideShield status?
To see whether your RideShield coverage has been activated, you'll need to tap on the shield icon while on the booking screen.
---
T&Cs
On-time guarantee vouchers will be automatically sent to customers whose pick-ups have been delayed by 10 minutes from the initial ETA shown
On-time guarantee vouchers will not apply to customers who have edited their pick-up locations
On-time guarantee vouchers must be used within 3 months from date of issue
The on-time guarantee voucher will only be issued once the trip is completed