Connect, communicate, and celebrate! Here are things to do this weekend as we honour all the women in our lives and what they've achieved.
Image from Facebook: WeWork

Fearless Females: Queens of Their Craft
When: 8 Mar
Where: WeWork (Suntec Tower 5)
Meet the most creative of female artists, creators, and entrepreneurs as they tell us what inspires them. Panelists include QimmyShimmy, who's famous for her wonderfully weird sculptures of human babies (you read that right). This celebration also includes disco beats, interactive art installations, and baked goodies.
Image from Facebook: The Helper Documentary
When: 10 Mar
Where: Malay Heritage Centre
Putting the spotlight of everyday heroes, this film documents the lives of domestic workers who's had to leave their homes to find a living in foreign countries. A photography and poetry showcase follows the screening. The event is free, and donations made to Aidha will qualify for tax deductions.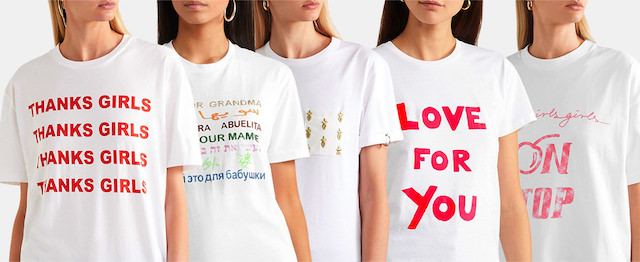 Image from Milled.com

NET-A-PORTER: Empowered women empower women
Here's one you can do from the comfort of your home: shopping! Shop tees from designers including Victoria Beckham, Alexa Chung, and Isabel Marant. Profits from sales go to Women For Women International, a charity for women in the midst of rebuilding their lives after war.
Other things to do this weekend
When: 7–10 Mar
Where: The Arts House
This literary festival, as part of #BuySingLit, focuses on the theme "Love and Loss (and some things in between)" – exploring how words can help navigate our world and our emotions. Highlights include The Room of Love and Loss (and some things in between), which shows an intimate look into what members of the literary community hold dear in their hearts.
When: 8–10 Mar
Where: Bukit Pasoh Road
Clan associations have always felt like part of a very distant past in Singapore's history, but did you know Bukit Pasoh Road still houses many of them? Drop by and explore the area as these places play host to design installations, stories, music, workshops, food, and culture.
---
Any content in this blog post/other marketing collaterals including references to third party sites or applications ("Third Party Sites") is for general informational purposes only as part of our user community engagement. It does not constitute an advertisement, endorsement, recommendation or advice, nor does GOJEK derive any form of commercial benefit from third parties from sharing such content with you.

Content made available from such Third Party Sites including about their products and services ("Third Party Content") is solely the responsibility of the site provider, and any transactions you enter into concerning Third Party Content linked from this email are solely between you and that Third Party, without any liability or responsibility on the part of GOJEK, its licensors or any of its Affiliates for such Third Party Content or transactions.