This week on Gojek recommends: June holiday activities for the whole family – especially the kiddos. Taking the week off to spend time with them, or on babysitting duty? Here are the places to go to with the precious little ones.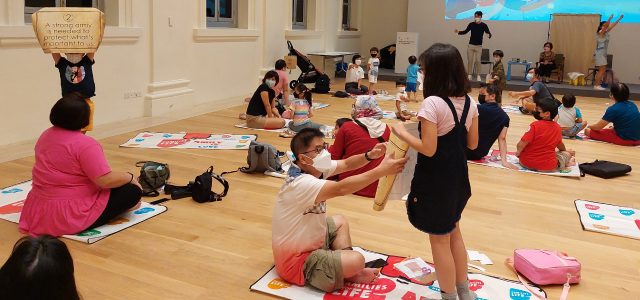 Image from: National Heritage Board

For the budding culture aficionados: Childrens' Season 2022
Where: Multiple locations
The annual event includes workshops, interactive theater shows, and museum tours. You can even spend a night at the museum with storytelling sessions and craft activities after sunset. Evening plans sorted!
Image from: Adventure HQ

For the thrill-seekers: Adventure HQ
Where: 2 Yishun Walk, Singapore 767944
For kids bored of their neighborhood playgrounds, Adventure HQ is the place to be. Boasting 10 multi-installations, bouldering walls, and Singapore's tallest slide, it's all your little adventurer needs to stay occupied. Can you keep up?
Image from: Edible Garden City

For those with green fingers: Edible Garden City
Where: 60 Jalan Penjara
No better way to experience our flora and fauna than at a half-day camp at Edible Garden City. Kids will get their hands dirty planting vegetables and painting terracotta pots. They'll also get to bring their pots home – a perfect souvenir from summer.
Image from: Young Nautilus

For wannabe marine biologists: Intertidal walks
Where: Multiple locations
Take learning outdoors with an intertidal walk organized by Young Nautilus. Prepare to get muddy and discover sea critters with your little critters. You may even learn a new thing or two!
Image from: ORTO

For kids really into fish: Longkang fishing at ORTO
Where: 81 Lor Chencharu
Like the old-school tradition of catching fishes in the local drain, except in a specially-made pool that's slip-free and safe. Teach your kids a thing or two about pet ownership and responsibility too.
---
Any content in this blog including references to third party sites or applications ("Third Party Sites") is for general informational purposes only as part of our user community engagement. It does not constitute an advertisement, endorsement, recommendation or advice, nor does Gojek derive any form of commercial benefit from third parties from sharing such content with you.

Content made available from such Third Party Sites including about their products and services ("Third Party Content") is solely the responsibility of the site provider, and any transactions you enter into concerning Third Party Content linked from this email are solely between you and that Third Party, without any liability or responsibility on the part of Gojek, its licensors or any of its Affiliates for such Third Party Content or transactions.