It's school holiday season and we know you've got your kids' schedules packed to the brim. If you find yourself needing a little excuse to wind down for an hour or two, we've got some flicks for the whole 'fam to get cozy to. Hint: get to wherever your movie sesh is held – in a Gojek, of course.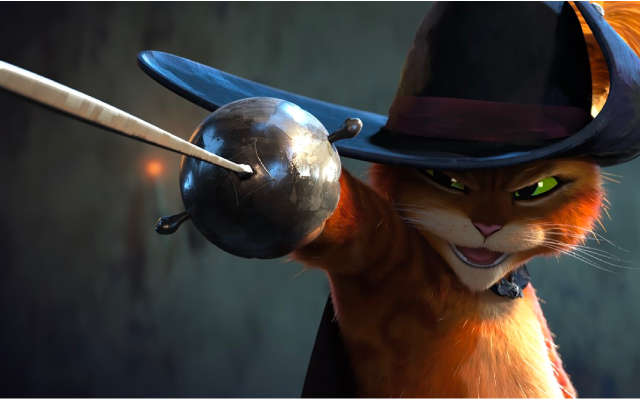 Puss in Boots: The Last Wish
In this Shrek spin-off, Puss comes face to face with, gasp, Death, who takes the form of a treacherous, seemingly infallible Big Bad Wolf. Can he escape and live his ninth and final life?
Suzume
Makoto Shinkai's latest anime has a talking chair, a talking cat, and a high school girl on a mission to close mysterious standalone doors or risk devastating natural disasters happening. Gojek to your nearest cinema to catch a screening!
Guillermo del Toro's Pinocchio
If you could only show one version of Pinocchio to your children, let it be del Toro's dazzling stop-motion retelling that celebrates parental love and families in all different shapes and sizes. Watch the Oscar-winning film on Netflix.
Spider-Man: Into the Spider-Verse
See Spidey save the world and face his demons in this animated film where comic book renderings come to life. Swing by the ArtScience Museum for a free screening! Perfect for when you're out and about in town and need to take a little breather before dinner plans.
Jumanji (1995)
This recommendation's more for parents than for kids. Stream for the nostalgia and have your kids watch anyway – few things are quite as entertaining as seeing wild animals take over suburban homes. Fancy a board game after?
---
Any content in this blog including references to third party sites or applications ("Third Party Sites") is for general informational purposes only as part of our user community engagement. It does not constitute an advertisement, endorsement, recommendation or advice, nor does Gojek derive any form of commercial benefit from third parties from sharing such content with you.
Content made available from such Third Party Sites including about their products and services ("Third Party Content") is solely the responsibility of the site provider, and any transactions you enter into concerning Third Party Content linked from this email are solely between you and that Third Party, without any liability or responsibility on the part of Gojek, its licensors or any of its Affiliates for such Third Party Content or transactions.