It's never Christmas that makes Singaporeans panic – it's the Lunar New Year: the one time everyone meets everyone and their mothers, try to impress them, and go back home exhausted.
We know how it gets, but fret not! Here's Gojek's guide to making your celebrations just a little bit easier, with tips for dressing up, hosting, and having the right entertainment to keep visitors away from making judgy comments (yes, uncle, I WILL be eating the bak kwa that will make me fatter).
Image from: Facebook – YeoMama Batik
YeoMama Batik is a mother-and-daughter team that pairs intricate batik prints with classic silhouettes and modern sensibilities. Perfect if you're looking for something more subtle than the usual red-and-gold shebang.
Image from: Little Qipao
Contrary to its name, Little Qipao has sizes for both kids and adults alike – meaning you can get full-on, matching outfits for the whole family if subtle is not how you play.
Image from: Facebook – Kim Choo Kueh Chiang
This famous Katong-based rice dumpling maker also produces CNY goodies this time of year. You don't have to make the trip all the way to the East too – their love letters, pineapple tarts, and everything else you'd need are also sold online.
Image from: Peng Guan
A brand that's relatively a newcomer compared to its counterparts, the best thing about Peng Guan is that it can be ordered online. The second best thing about Peng Guan is that this doesn't mean quality is compromised – your pork jerky is still absolutely delicious, free from funky MSG and preservatives.
Image from: Singapore Lager

How 'bout the Singapore Lager for something local and light? Created by the folks in Tuas Brewing Co., this beer prides itself on being versatile enough to match well with everything from your hot pot dinners to mandarin oranges.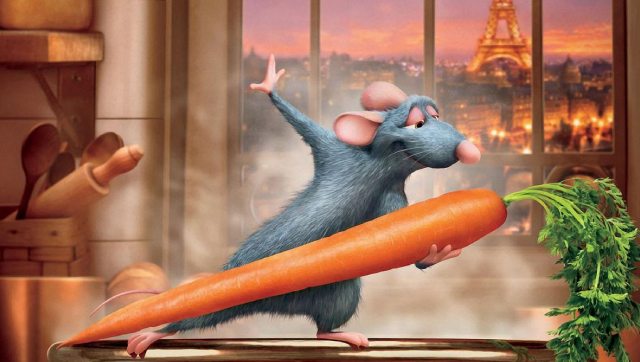 Image from: Ratatouille
This is not a CNY movie, but it is the year of the rat. Which means it's high time we celebrate the rat-in-a-hat, Remy, and all that he's done for the fictional French culinary world.
Image from: In The Mood For Love
In The Mood For Love
Wong Kar-wai's gorgeous, gorgeous film tells the tale of two neighbors who learn that their spouses are cheating on them. Everything is slow, lush, and heavy with implications. Every frame is a well-choreographed, precise dance performed to perfection by Tony Leung and Maggie Cheung. (Also: maybe don't watch this with the yung'uns – there is nothing particularly graphic, but its themes aren't the most kid-friendly.)
Image from: Spyfall
Create a room online, and get your friends to join in with their phones. All of you will be assigned a location and a role, except for one person who will be the spy. The spy's job is to figure out the location, while everyone else attempts to find out who the spy is. Take turns asking each other questions to uncover the mystery. Whoever does their job first wins.
Image from: THE FARM STORE
Bang for your buck

Add a little special to the red packets for your loved ones. This one by THE FARM STORE which takes the words 'hong bao' and its literal translation – red bun – into life. For something a little less extravagant, your friendly neighborhood Daiso stocks up a slew of very cute envelopes to give out. (Psst… as always, it's what's on the inside that counts.)
---
Any content in this blog including references to third party sites or applications ("Third Party Sites") is for general informational purposes only as part of our user community engagement. It does not constitute an advertisement, endorsement, recommendation or advice, nor does Gojek derive any form of commercial benefit from third parties from sharing such content with you.

Content made available from such Third Party Sites including about their products and services ("Third Party Content") is solely the responsibility of the site provider, and any transactions you enter into concerning Third Party Content linked from this email are solely between you and that Third Party, without any liability or responsibility on the part of Gojek, its licensors or any of its Affiliates for such Third Party Content or transactions.