Say hello to some of Gojek's all-star driver-partners!
Our long-time driver-partners are the bedrock that help us to keep Singapore moving, rain or shine.
Here's why they continue to choose to drive with Gojek:
Sweeter earnings per trip
Up to 18% more on average compared to other ride-hailing platforms
👍 Lower service fees of just 10%
👍 Up to $100 in peak hour earnings boosters available daily
👍 Upsized $3 far pick-up incentives
A platform that cares
👍 85% of top driver-partners surveyed choose Gojek because they feel that their feedback is highly valued
GoalBetter benefits for all
👍 Up to 33.4% fuel rebates and discounts, plus health benefits from GoalBetter partners
Gojek's all-star drivers:
🌟 All-Day Warrior Desmond Thio
Read on for pro-tips from these all-star driver-partners, and learn more about their driver types here: gjk.sg/drivertype
---
Desmond started driving with Gojek as he was not satisfied with the incentives of another ride-hailing company, and has been driving with Gojek ever since.
A true All-Day Warrior, he takes strategic breaks to keep himself well-rested, but makes sure that he's online during the hottest peak hours of the day.
A typical day on the road
On weekdays, he keeps to a disciplined, tight schedule - starting his first shift by 6:45AM and working his family commitments such as fetching his children to school around the schedule. After a quick breakfast at 10:30AM, he begins his second shift of work until his lunch and exercise break at 1:45PM. He makes sure to come online by 5PM, has dinner at 7PM, and drives until 11PM.
Having a tight schedule that requires discipline, he works around the peak hours to ensure that he can still spend precious moments with his children.
Earnings screen contributed by Gojek driver-partner Desmond Thio
Desmond's Favorites
From the West to the heart of the shopping district, Desmond has plenty of hotspot recommendations for new driver-partners.
To start with, here are some of his favorite areas to head to:
Choa Chu Kang/Bukit Batok/Bukit Panjang zone e.g. Lot One, Kranji Camp, Home Team Academy, Tengah Air Base, West Mall, Bukit Batok Driving Centre, Bukit Panjang Plaza, Hillion
Jurong zone e.g. NTU, Jurong SAFRA, Westgate, IMM, Superbowl Jurong
Orchard zone: e.g. Far East Plaza, Paragon, Mount Elizabeth Orchard Hospital, ION Orchard, Centrepoint, Mandarin Orchard
Edward started driving with Gojek after his friend's recommendation, and now drives almost every day. An All-Day Warrior, he aims to hit his targets of $500 to $600 daily by driving around the city area for higher demand.
Screenshot contributed by Gojek driver-partner Edward
Any advice for new driver-partners?
"Just try to relax your mind and be positive!"
Brian started driving with Gojek due to the impact of COVID-19 on his business, as he was no longer able to travel overseas for his business.
A typical day on the road
An All-Day Warrior, Brian drives almost every day unless he has family commitments.
On Mondays to Thursdays, he drives from 11AM to 11PM, with lunch and dinner breaks of up to 30 minutes each. He aims to hit his targets of $300 to $350 daily.
On Fridays, he starts driving earlier from 6AM until 9AM, then continues from 2PM to 11PM. For Saturdays and Sundays, he typically drives from 9AM to 11PM with at least 3 breaks in between. He aims for $400 to $500 daily on weekends - after platform fees and service charges, and including incentives.
"I find that the daily incentives are achievable with my typical driving routine", he says. "I'm not really an all-out driver. My earnings are good enough for me, and I'm driving happily and feeling quite relaxed and stress-free."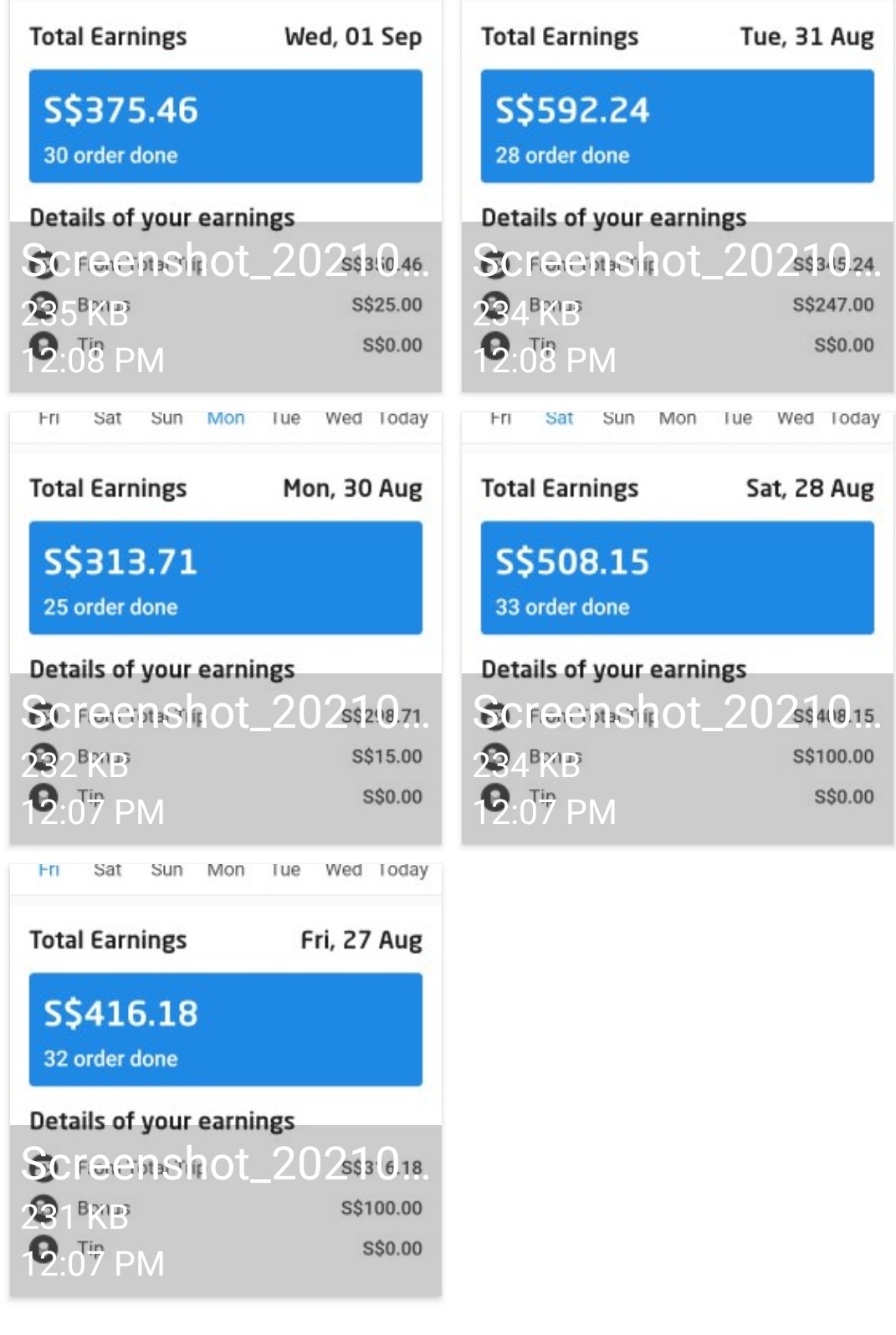 Screenshot contributed by Gojek driver-partner Brian

Why Gojek?
"I would say that Gojek is definitely more considerate and compassionate in terms of benefits and services compared to other platforms."
Any advice for new driver-partners?
Take care of your health: "Set targets for yourself, have a good rest, drink more water, and take care of your health."
Keep a positive mindset: "Drive happily, do not grumble. When you smile at your passengers, they will smile at you. Try not to be angry at passengers, as you will not pick up the same passenger again - just complete your trip and say thank you, don't let others affect your good day."
Recharge with your loved ones: "Spend more time with your family and you will get positive energy, instead of wasting your time and energy complaining with other drivers."
Eng Heng started driving with Gojek because of the "good incentives and stable earnings". "I like to drive with Gojek because the fare is reasonable and the incentives are good! Plus, there are more hours to earn extra points on weekends," he says.

A typical day on the road
An early riser and a Steady Seeker, a typical day for him starts at 6AM and ends at 8PM, with a 1.5 hour break any time between 12PM and 4:30PM.
This means he's able to maximise his efforts with more trips by fetching the morning school-going crowd starting at 6AM on weekdays - so he can hit his daily earnings targets of $300 and head home to rest early.
Screenshot contributed by Gojek driver-partner Eng Heng
Any advice for new driver-partners?
"Take a break if necessary!"
Mr B is a Steady Seeker whose consistent efforts are bearing results.
Fairness is important to him, and it continues to be one of the main reasons why he chooses to drive with Gojek. He knows that by accepting more trips, he'll be allocated more trips by the system - helping him to earn more in the long run.
He drives for about 8 hours every day and has a daily earnings target of $250.
Screenshot contributed by Gojek driver-partner Mr B

For better demand and extra points, Steady Seekers like him make sure they're online during the evening peak period, starting from 5PM every day.
🔎 For more info on peak periods: gjk.sg/betterearnings
🔎 Hotspots to get started: gjk.sg/hotspots
🔎 Learn more about your driver type: gjk.sg/drivertype
A big thank you to all our driver-partners who continue to choose to drive with Gojek. We deeply appreciate your efforts as we navigate through this challenging season together. Stay safe!
Driver-partners' responses have been edited slightly for brevity and clarity. Illustrations of driver-partners are not representative of the actual drivers, and some names have been changed to remain anonymous at the driver-partner's request.