Need a way to earn anytime, anywhere, on your own schedule? You're at the right place.

Why Gojek?
Greater flexibility 
Driving on our daily points system means that you get to enjoy incentives daily – so you get to drive today, rest tomorrow if you'd need to. Our minimum weekly earnings also has you covered for a stress-free drive!
Competitive earnings
With Gojek, there are no driver rankings for incentives – no rubies, emeralds, or diamonds. You all get equal opportunities for maximum earnings with daily point payouts and minimum weekly earnings. 
Points system 

Our points system ensures that you get rewarded for trips that require more effort – e.g. trips during peak hours and long distance trips of more than or equal to 15KM. 
Example
Mr Teo drives for 9KM for a trip on Monday, 8:30AM. For a trip during the AM peak hours, he will receive 6 points.
Mr Teo accepts a trip that is 17KM in distance on Friday evening, 5:40PM. For a trip during the PM peak hours, he will receive 4 points. For a trip that is 15KM and more, he will receive an additional 1 point. 
In total, he will receive 5 points.
---
How do our incentives work?
1) Daily point payouts
Achieve these points to earn $150 on top of your fares daily.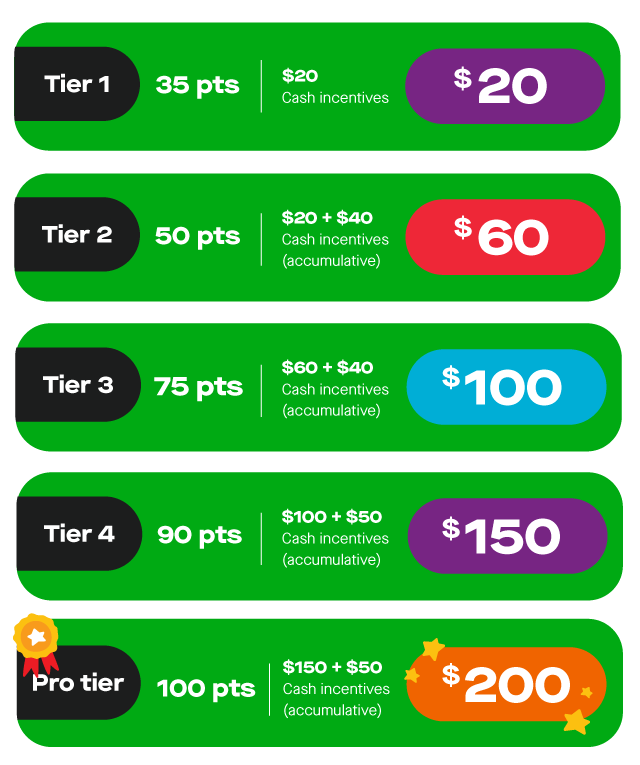 Chase the points in our pro tier to earn $200 on top of fares daily! 
2) Minimum weekly earnings (MWEs)
Earn at least $850 for every 250 points you accumulate throughout the week! 

MWEs work as a top-up if your nett fares and other incentives do not meet this amount. This means that you will earn these amounts as long as you complete the targeted number of points, and maintain a minimum of 90% in weekly performance average. We will credit your Earnings Wallet with any difference the following Tuesday.
Note that top-ups for MWEs are after your fares and other incentives have been taken into account, along with a 20% service fee. 
Example
Mr Teo earns 50 points on Monday, 80 on Tuesday, and 75 on Wednesday. His car breaks down on Thursday and Friday.
All Mr Teo needs to do to earn $850 for the week is accumulate 45 points over Friday–Saturday and hit the first MWE tier. 
---
T&Cs
Points are accumulated from 1AM–12:59AM the following day (24 hours).
Point calculation for MWEs begins at 1AM on Monday to 12:59AM the following Monday.
Point payouts are not subjected to service fees.
Top-ups for MWEs are subject to a 20% service fee, and take into account your fares, flash incentives (after 20% service fee), and daily point payouts. Payouts will be made the following Tuesday. 
Tolls are not included as part of MWE calculations.
The performance required for daily point payouts is 80%, and 90% weekly average for MWEs.
Other useful links
Fares|Points & performance|Rent a car with GoFleet|Driver-partner resources|More information