Thank You, Partners, For Your Supports in Maintaining Our Driver's Health
Hi Gojekers,
We have made various efforts and will continue to support the prevention of COVID-19 so that you can live as normal as possible during #stayathome period. From ordering food, shopping for daily necessities, sending goods, to cleaning houses and vehicles and a number of other services, Gojek continues to be loyal to accompany your days.
For this reason, safeguarding the health and safety of our trustees such as driver-partners, merchants and service providers is our top priority at Gojek, especially in the midst of the current COVID-19 pandemic. We are very pleased to find many who share the same view on the importance of trustees' role in the COVID-19 situation and to participate actively in taking care of their health and safety.
To all partners who join hands with Gojek to ensure that Indonesian people can do their daily activities during #stayathome period as comfortably as possible, we say:
Thank you!
---
GoRide and GoCar
Efforts to maintain the health of driver-partners for mutual safety
Gojek has activated 130 Aman Bersama Gojek (Safe with Gojek) Spots together with Gojek which serves partner drivers to get a body temperature check and take other medical equipment needed while working. We also provide intensive educational material related to COVID-19 prevention according to guidelines from the Ministry of Health of the Republic of Indonesia through the driver-partner communication channel, including the notification feature in the application.
Gojek with Clear, XL, Zee (Kalbe), Samyang, Kispray, and Garnier have also provided thousands of masks, hand sanitizers, vitamins, disinfectants, and food and drinks for driver-partners in strategic locations, including operational offices (DSU) and pickup points.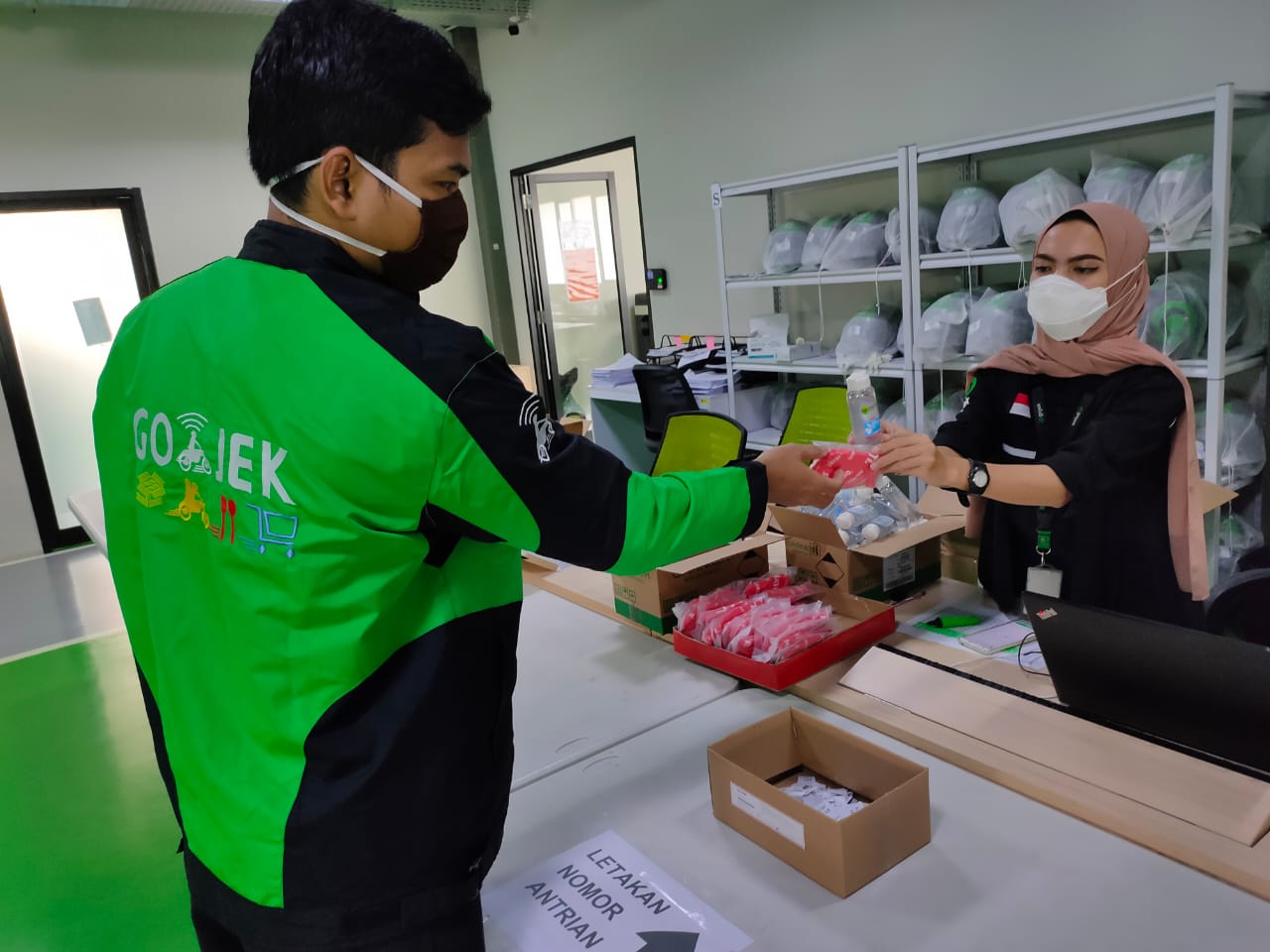 ---
GoFood
Efforts to maintain the health and sterilization of merchants
We have proactively increased awareness, prevention and protection measures related to COVID-19 (Coronavirus), both for merchant partners and driver-partners.
In collaboration with a number of partners such as Nuvo, FamilyMart, Dettol, and Wardah, Gojek continues to increase efforts to protect our entire ecosystem, in line with general advice from the Ministry of Health of the Republic of Indonesia. These efforts include:
Increase driver-partners' awareness about proper hygiene and handwashing while increasing the frequency taken. We also provide hand sanitizer to driver-partners in their gathering areas as well as at the driver operational office (DSU) gathering points.
Gojek also launched a series of safety and hygiene protocols for merchants, which included:

Body Temperature Marking Card that contains information about the body temperature of the party handling the food ordered, the aim is to ensure safety and keep a distance so that food remains hygienic until it reaches our customers.
Safety seal to protect food to keep it safe and hygienic
After the implementation of Large-Scale Social Restrictions (LSSR) in several cities, we also increasingly urge the health of merchant partner SOPs to:

Provides face masks, head masks, gloves and food tongs
Clean operational areas, facilities, and devices at the restaurant
Provide a place to wash hands with soap
Ensure that food is cooked, and properly heated and processed
Discharge employees who are sick (fever, flu, cough, diarrhoea)
Provide a queuing area with a minimum distance of 1 meter between each person
Implement security procedures from the Ministry of Health of the Republic of Indonesia
---
GoClean
GoClean Partner Steps Safe from COVID-19
To ensure the security of you and your GoClean partner, we have prepared a series of steps to prevent the spread of COVID-19. We have carried out various initiatives to help break the chain of virus spread. One of the ways is by adjusting the GoClean service procedures to be in line with the Large-Scale Social Restrictions (LSRR) that apply in a number of areas to prevent transmission of COVID-19, including:
Implement Clean and Healthy Behavior (CHB) and enforce daily health checks to ensure GoClean partners are in good health
Ensure the health of customers through the Terms and Conditions in the in-app before providing services.
Receive service training during COVID-19 organized by GoLife Business Partners online.
Working closely with Wardah and Garnier, ensuring partners are always equipped with personal protective equipment, such as masks, gloves, hand sanitizers, as well as soap, and disinfectant fluids.
Maintain a minimum distance of one (1) meter when meeting other people, including customers.
Require partners to wash their hands and feet with soap and running water for at least 20 seconds, and sterilizing cleaning equipment before and after providing services.
Avoiding touching the face because the mouth, nose and eyes are considered as susceptible to viruses.
Spraying disinfectant liquid in every cleaning service for residences or vehicles. 
So, don't let your house and vehicle get dirty because GoClean is ready to help with hygienic procedures.
Now you can also take part in helping daily workers who are affected by the quiet streets. Not only donating, but you can also give a message of encouragement to those who are still struggling, through Kitabisa.com/sumbangsuara
#ThereIsAlwaysAWay to go through this pandemic together.