Gojek Efforts to Maintain Driver Partners' Health through the J3K Protocol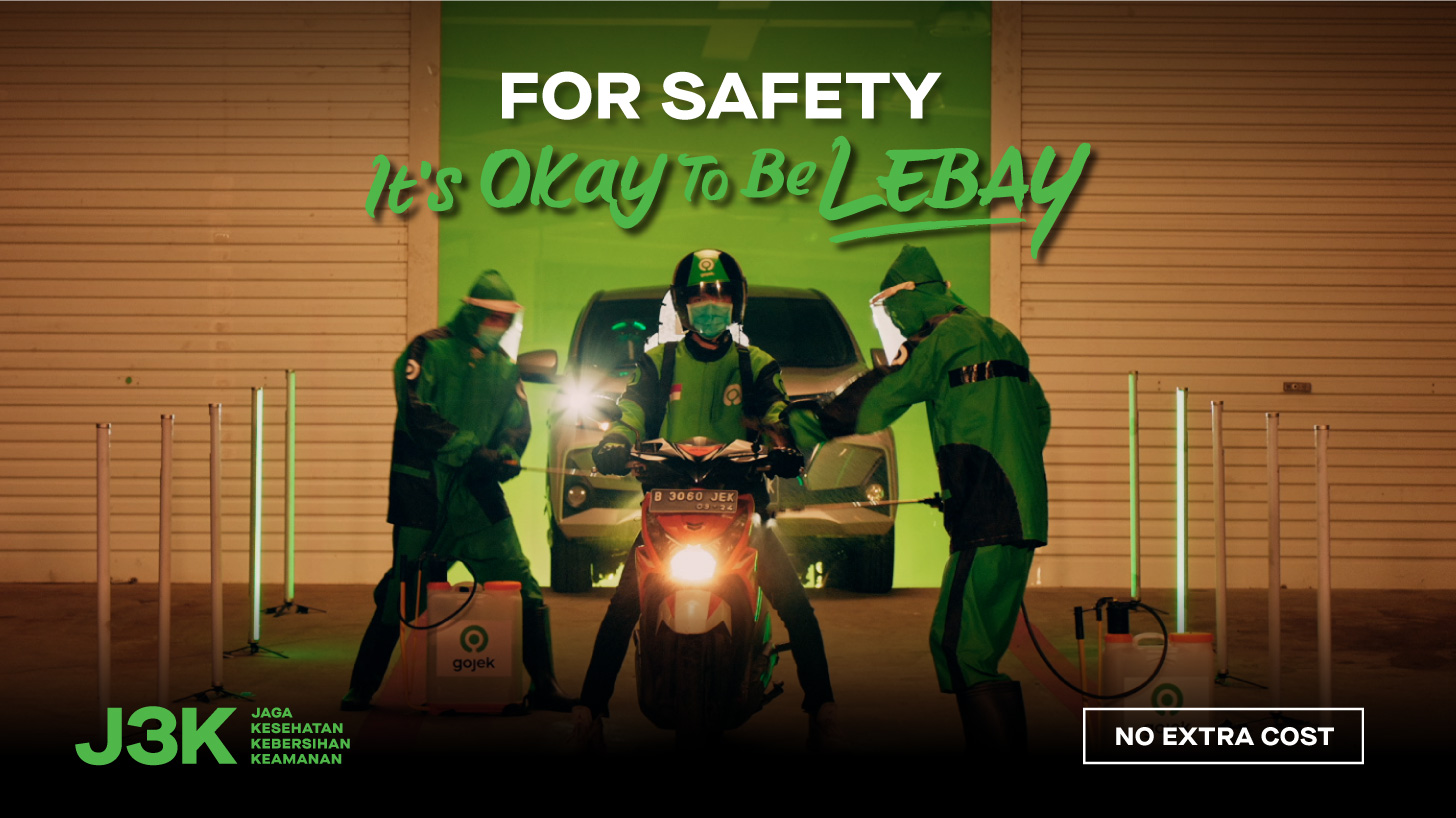 Hi Gojekers,
During this pandemic, Gojek has been continuously innovating. To support you run your daily activities as comfortably as you can, we strive to maintain the health and hygiene of our ecosystem through J3K protocol (Stay Healthy, Hygienic and Protected).
Moreover, to ensure our efforts of reducing any virus transmission are optimised, we highly prioritise our driver-partners health, hygiene and safety. Therefore, we present various initiatives, such as:
---
J3K Safety Centres for Gojek Driver Partners
The J3K Safety Point is a form of Gojek's continuous efforts to ensure the condition of driver-partners, by routinely checking driver's temperatures and disinfecting their vehicles. Driver-partners are required to come to the J3K Safety Point, which are available in various cities.
By maintaining physical distance, diver partners will receive three types of services that can be done on a drive-thru basis at J3K Safety Point, as our significant steps to help reduce the spread of the coronavirus:
Body temperature check
Checking driver partners' temperature is carried out regularly, at least once a week and will be recorded in the system. These reports are done to ensure that all driver-partners on duty are always in good health.
Healthy kits (health packages) distribution
Our Healthy kits distribution is carried out every month, where each driver-partner gets one package consisting of a mask and hand sanitizer. Previously, we have distributed millions of face masks, vitamins and hand sanitizers to hundreds of thousands of driver-partners in 90 cities throughout Indonesia.
Vehicle disinfection 
Every time driver-partners visit the J3K Safety Point, their vehicles will be sprayed thoroughly with disinfectant liquid.
The J3K Safety Point operates in more than 200 points spread across major cities in Indonesia. These posts are operated by trained officers, including driver-partners who are members of the communities. This is done to expand the reach of services while providing additional income for them.
The information of the driver partner's body temperature and the status of vehicle's disinfection can be checked in the driver-partner profile, which you can access when ordering GoRide / GoCar, GoSend, and GoFood services.
---
J3K Protocol Checklist
In addition to providing J3K Safety Point, we also continue to ensure our driver-partners are following health and safety protocols. One of the efforts is reflected in our innovation of the J3K Protocol Checklist feature.
When activating the application, driver-partners will receive a checklist of protocols they must follow every day, such as checking body temperature, cleaning / disinfecting vehicles, washing hands routinely, distance guarding, and wearing masks. After ticking the entire protocol list, driver-partners can click the 'I'm ready to be online' button.
J3K Protocol Checklist feature is available to further implement health protocols so that you and driver-partners' safety and hygiene are guaranteed. This feature can be accessed by GoRide and GoCar partners through the GoPartner application which appears every day the first time our driver-partner presses the online button.
---
Mask Verification
The use of masks is a very important step to reduce the spread of coronavirus. For this reason, we also ensure that driver-partners always use masks correctly through mask verification features.
After driver-partners ensure their health and safety, partners will be asked to verify the use of masks in the GoPartner application. Driver-partners are asked to take a selfie-picture by wearing masks. Once verified, driver-partners can take orders and serve all your needs.
Additionally, Gojek efforts to ensure the collective health and safety also include for the consumers. Gojek presents the 'J3K Safety Zone' at passenger shelters and pick-up points, which are located in strategic areas such as bus terminals, airports and train stations.
We hope that this proactive step can help all levels of society to adapt to the current situation. By implementing the J3K protocol together, #ThereIsAlwaysAWay to make life safer.