Close The Loop on Digital Advertising with Gojek Ads Network
In today's digital landscape, marketers are focused on reaching out to consumers with increasingly conversion-oriented measurement across multiple channels as they move down the purchase funnel. However, at the moment, there are only a few platforms that are powered with the ability to connect the dots between someone who is targeted with an online ad and with someone who actually buys the item. This matters for the advertisers because it may help them to determine attribution and allow them to optimize their marketing strategies in ways they couldn't before. 
And the long-awaited innovation is finally here! 
At Gojek we found that more than 75% of Gojek users are on Facebook and Instagram. For advertisers, reaching them through both of these platforms is absolutely paramount for brands' visibility and growth. Therefore, Gojek launched Gojek's Managed Ad Service, GoGAN (Gojek Ads Network) which provides advertisers with an effective way to build brand presence and deliver a great customer experience through online advertisement. Unlike other platforms, GoGAN is able to help advertisers to close the loop between online ads and the actual sales generated from both online and offline. GoGAN allows brands to run media campaigns tactically and it is permissible to connect Gojek's products and services such as GoFood, GoPay, and GoMart as the endpoint. 
Digital campaigns powered by GoGAN are considered to be more effective and efficient. Why?
Understanding and reaching the right audience 
GoGAN helps the brands understand better their consumer online behaviour and preferences such as the products and services they are searching for the most and the language they use in their search queries. Gojek's targeting is deterministic based on consumers' activities on the platform. The insights will help the brands to capture all the needs of their diverse audience.
Engaging the audience and frictionless experience
GoGAN capitalizes on mobile app deep linking, to help brands deliver key messages to consumers based on their needs and drive them to the appropriate purchase funnel on Gojek's platform such as GoFood, GoPay, or GoMart, whichever is relevant for them.
Advertisers will see the holistic picture with real time analytics and performance reports. Brands will be able to access insights and recalibrate marketing strategies through GoGAN.
Gojek's ability in creating highly relevant segments and integrated online campaigns with Gojek services as a transactional platform has certainly benefited advertisers. In just two weeks of the campaign, Gojek has successfully helped Danone AQUA; the pioneer of bottled water in Indonesia, to bring goodness to more doorsteps with the integration of GoGAN and GoMart! This is how it's done.
To attract consumers, Danone AQUA offers exclusive discounts for Danone AQUA purchases on the GoMart app. A total of 13 SKUs were discounted up to 21% and can be purchased from the two major convenience stores, Alfamart and Alfamidi. Alfamart and Alfamidi were chosen because of their large operational scale thus consumers can get their order to their doorstep relatively faster.
To raise awareness and promote the campaign, Danone AQUA ran digital ads with GoGAN to reach out Gojek users on Facebook and Instagram. The first segment to target was GoMart active users and users who have purchased Danone AQUA and other similar products on GoMart. This segment is important for Danone AQUA because they are familiar with the GoMart shopping experience.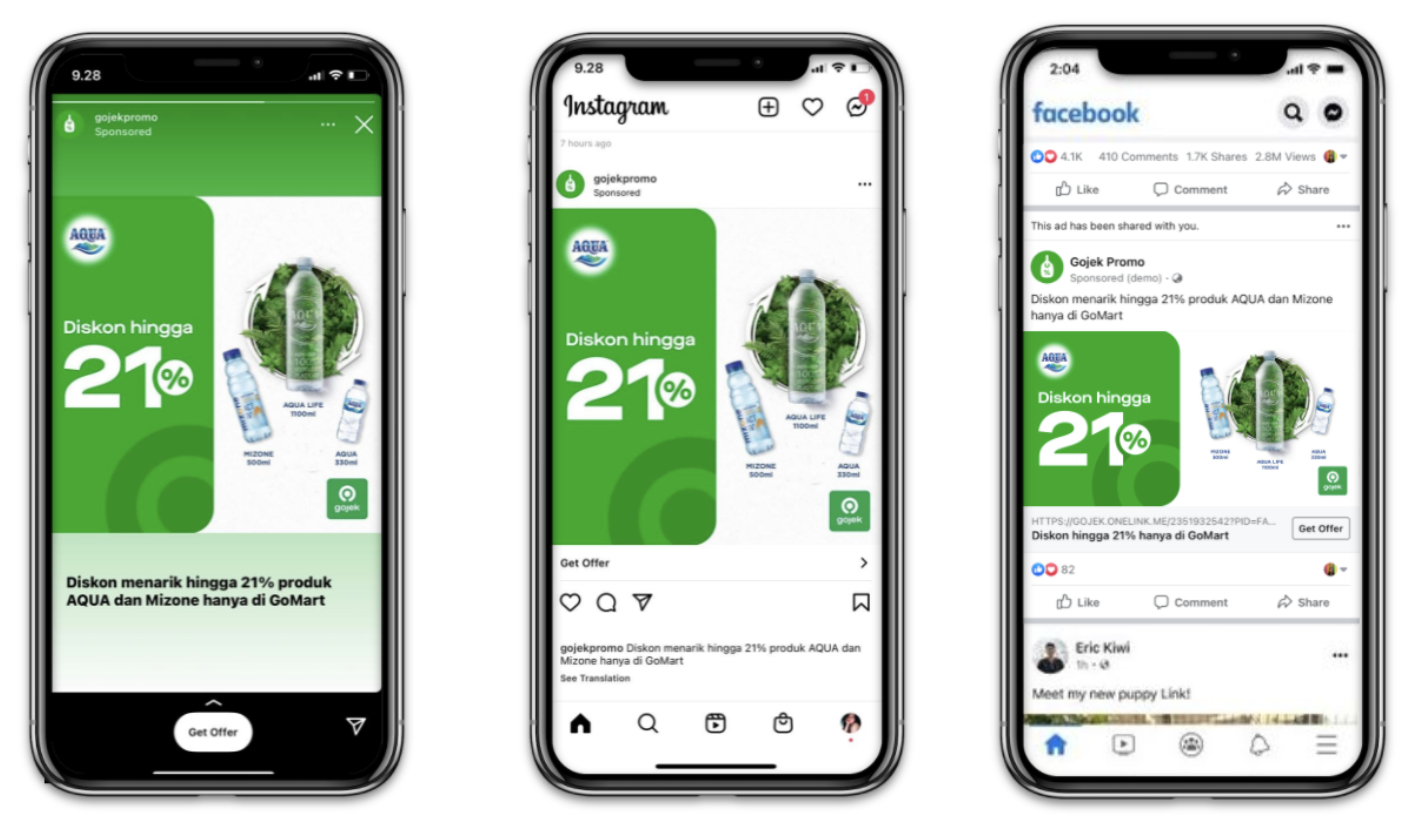 The next major segment was GoFood users who participated in Danone AQUA's menu bundling campaign in GoFood, as such brand familiarity is believed to potentially increase GoMart conversion rate. In addition, Gojek also reaches out to sports enthusiasts who have an interest in a healthy lifestyle and beauty, those with frequent travel to the sports stadium and fitness center using GoRide, GoCar, and GoBluebird. As a product that prioritizes hygiene and purity, Danone AQUA products are relevant for this segment.
Once the ad is clicked, it will automatically direct users to the GoMart app where they will be able to find Danone AQUA promotion and purchase it from the nearest Alfamart or Alfamidi. This integration created a seamless consumer journey thus elevated their shopping experience. Whilst, with GoMart being the endpoint of the campaign, it allows Danone AQUA to count the generated transactions and prove the value of their digital spend.
In just two weeks of the campaign (28 June - 11 July 2021), the campaign results are mind-blowing: 
This campaign has successfully grown Danone AQUA' overall sales in GoMart. The capability of Gojek Ads Network to target highly relevant segments and connect them with GoMart as a transactional platform has greatly helped advertisers track down the sales funnel up to the purchase stage. Thus, it enables brands to measure the effectiveness of their digital strategies way better than ever.
Let's collaborate with us to grow your brand even further! Please contact brandpartnership@gojek.com for more information and inquiries.