Advance your GoFood campaign to the next level with GoBiz Ads
For the second year in a row, the holy month of Ramadan occurred amidst the COVID-19 pandemic. And just like last year, dine-in options and large social gatherings remained out of limits to reduce the risk of spreading the COVID-19 virus. These restrictions consequently became a boon for food delivery services.
As the leading online food delivery platform, GoFood continuously strives to innovate and offers a joyful culinary experience for consumers. During the pandemic, GoFood recorded a 20% increase in transactions, mainly due to an increase in the number of newly registered SME merchants.
At GoFood, SME merchants account for more than 80% of the overall transactions and also dominate the RTD (ready to drink) business. 

To increase their sales in the GoFood app, RTD brands may consider partnering with more SME merchants and maximizing this huge potential. A notable example was how Gojek helped Le Minerale, Mayora's mineral water brand, own the month of Ramadan by leveraging the versatility of GoBiz App; an on-demand platform that is used by GoFood merchants to manage their day to day transactions with minimal hassle.
Merchant Recruitment Optimization with GoBiz Ads
For Le Minerale, the goal was clear. In order to win Ramadan, Le Minerale must ensure that their products are being sold by as many SME merchants as possible through collaborative special menu bundles that people can enjoy at home. While creating a menu bundle can easily be done with just a few clicks using GoBiz, the biggest challenge for brands is to promote their campaigns to the SME merchants at GoFood and get them to participate in the campaign.
At first, this stage was done manually. Brands and Gojek had to collect and validate potential merchants' data to ensure that they sell Le Minerale at GoFood or are willing to sell it and create a bundling menu with the product. This process was not scalable as it required a lot of manpower, was time-consuming and was non-targeted recruitment due to limited information.
As a result, Gojek innovated by automating the merchant acquisition with GoBiz Ads located on the app homepage and targeted 75,000 untapped merchants in 7 key cities in Indonesia to participate in the #Beramal (Buka Bareng Le Minerale) campaign. To attract participation, Gojek offered SME merchants the opportunity to be included in Le Minerale's campaign at GoFood worth millions of rupiah, in return for listing the Le Minerale bundle menu at GoBiz. This was obviously a huge advantage and a win-win solution for SMEs because it was very unlikely for them to promote with the GoFood banner on their own.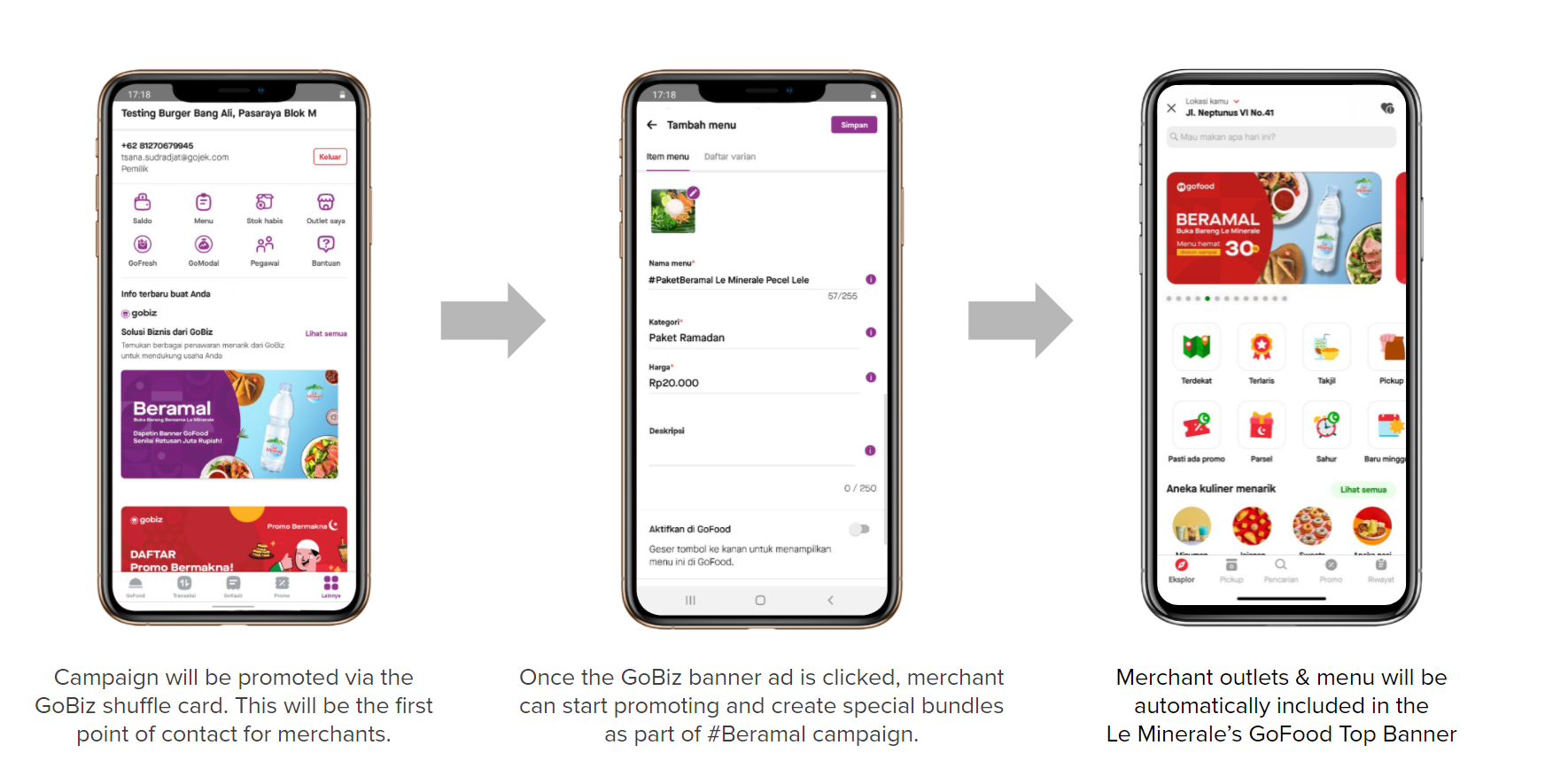 Once the GoBiz banner ad is clicked, merchants could start promoting and creating special bundles with Le Minerale as part of #Beramal Le Minerale campaign. By doing so, their outlet and menu would be automatically included in the Le Minerale's GoFood Top Banner, which holds premium visibility on the GoFood homepage. 
Once the GoFood banner is clicked, it would open up a wide range of participating merchants list sorted by the nearest distance from the user's location (within 20km), leading to a relevant and super convenient food ordering experience. To make it even more convenient for these users, the newly bundled menu will appear at the top of each merchant list to further promote the menu and make it the user's easiest choice.
This campaign has increased Le Minerale product penetration at GoFood by more than 10% as more SME merchants created new bundled menus with Le Minerale. Within a month of the campaign, the results are astounding! 
This campaign is a perfect example of how innovation and technology can connect brands with moments that matter to consumers. The versatility of GoBiz and Gojek platform sets the campaign apart as it has successfully allowed not only the brand, but the entire ecosystem including our merchants to go far and grow together during these challenging times.
To learn more about this case study, please watch the video here. 
If you want to create a greater campaign impact and #WinWithGojek, let's connect by contacting brandpartnership@gojek.com for more information and inquiries.