Once the place for plantations and weekend beach houses, Katong now plays host to ornate Peranakan facades, nurtures and preserves a rich heritage, and serves serious, mouth-watering grub. Hop in: here's Gojek's guide for this charming little enclave.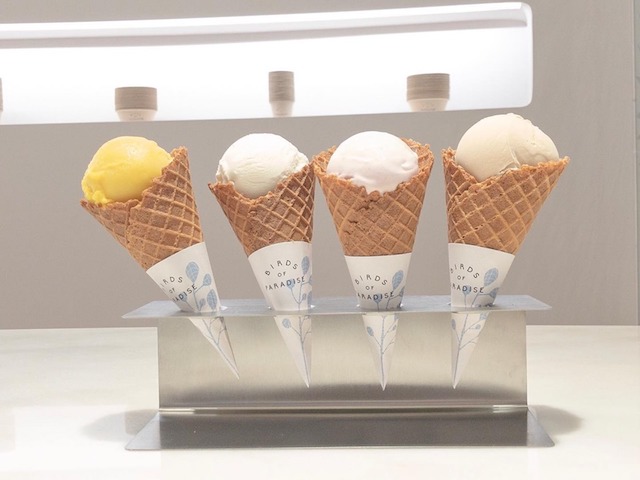 Image from: Facebook – Birds of Paradise
Eat: Birds of Paradise
Where: 63 East Coast Road
Katong is rich with established food joints, but if you're looking for something new, this gelateria hits the right spot. They're especially skilled with local flavors the likes of pandan and lychee strawberry, but the winner's an easy choice: white chrysanthemum, paired with the boutique's thyme cones.
Image from: Unsplash
Play: Teo Heng KTV Studio
Where: Katong Shopping Centre
Belt out to your fave trashy pop tunes for extremely low prices. Also comes with free wifi, along with food and drinks from just $1. Make sure to book early – Teo Heng's rooms get filled up really fast, especially at night and on weekends.
Image from: Benedicta Foo (The UrbanWire)
See: Carnival Beauty Salon
Where: 6 Ceylon Road
The curtains may seem drawn in this salon, but… we suppose it's a still-alive-barely-breathing situation. We can't vouch for its services, but the place is a precious, endearing and enduring time capsule: think old-school, red leather chairs, paired with posters of Princess-Di-esque hair poofs.
Image from: Rumah Bebe
Shop: Rumah Bebe
Where: 113 East Coast Road
Rumah Bebe stocks up everything you'd need to bring a little piece of Peranakan history home with you. Shop ready-to-wear sarong kebayas, have one specially tailored for you, and even stock up on porcelain homeware. If you're feeling peckish, know that Rumah Bebe also has gotten rave reviews for its food.
Image from: Lonely Planet
Explore: East Coast Park
Where: Along East Coast Parkway and East Coast Park Service Road
This is just slightly off Katong, but one worth mentioning none the less – East Coast spans a massive 185 hectares, and offers quite literally everything you'd need for a day out with the fam: plenty of land/water sports, a very classy McDonald's joint, barbeque pits if you'd want to whip up a feast on your own, and even campsites to stay the night.
---
Any content in this email including references to third party sites or applications ("Third Party Sites") is for general informational purposes only as part of our user community engagement. It does not constitute an advertisement, endorsement, recommendation or advice, nor does Gojek derive any form of commercial benefit from third parties from sharing such content with you.

Content made available from such Third Party Sites including about their products and services ("Third Party Content") is solely the responsibility of the site provider, and any transactions you enter into concerning Third Party Content linked from this email are solely between you and that Third Party, without any liability or responsibility on the part of Gojek, its licensors or any of its Affiliates for such Third Party Content or transactions.