Order now and PayLater!
Introducing Gojek's new payment method: PayLater. You can order our services anytime and pay by the end of the month!
No registration needed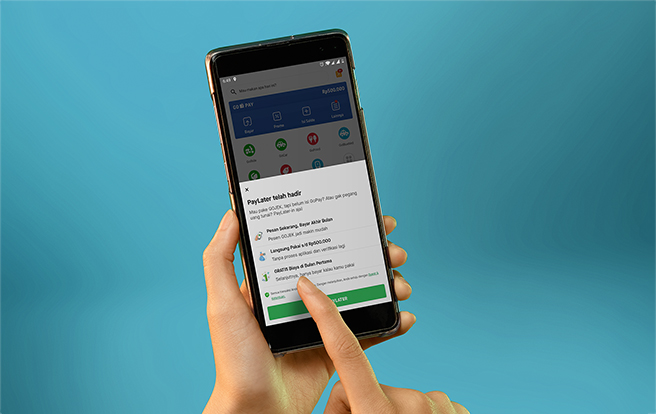 PayLater is available on your Gojek app for selected users. All you need to do is activate it.
Use it anytime, anywhere
With PayLater, you can order various Gojek services anytime and anywhere, hassle-free!
Pay all bills at once
All transactions are combined into one single bill to pay by the end of the month.
How to use Gojek PayLater
Activate PayLater
Tap 'More' on GoPay menu and tap 'PayLater'. Activate PayLater to start using.
Choose PayLater as your payment method
Order any if Gojek's services, but before you confirm your order, choose PayLater as your payment method.
Check your PayLater bill
Go to PayLater homepage to check your outstanding dues and available balance left for the month.
Review your transaction history
Tap 'Unpaid Transactions' on PayLater homepage to see the details of your PayLater transactions.
Pay your bill by the end of the month
Tap 'Make Repayment' to settle your PayLater bill.