Why GoAuto is your only automotive solution?
Your only automotive solution
Have a hassle-free car wash & maintenance at your fingertip!
Car wash here and there
No need to go out, our partner will come to you wherever you are!
Professionally trained partners
Our partners are professional, well-trained, and work based on SOP.
Convenience in every GoLife services
Rework guarantee
We provide a rework guarantee within a limit in accordance with the applicable provisions.
Service insurance
We provide an insurance for any lost item, physical injury, or medical treatment without any additional charges.
Experienced partners
Our partners are verified, profesionally trained, and have minimum of 2 years experience.
Tap GoAuto icon in Gojek app
Make sure you've downloaded GoLife app from Google Play Store or App Store.
Browse our wide-range of auto services
We have selections of service category to suit your needs.
Input your order detail
Specify your service duration detail.
Confirm your order
Choose your desired time, address, and payment method in the Order Confirmation page.
Our partner will come to you!
Click on Order and our system will find the best GoAuto talent for you.

Car wash
Interior, exterior, wax, window, and engine wash service.

Bike wash
Body, rims, and tire wash service.

Car tune up
Car maintenance service.

Bike tune up
Bike maintenance service.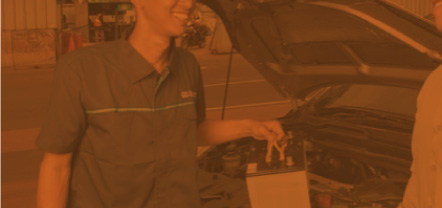 Car emergency help
Emergency services help, from tire change to towing service.